Ireland's Secret Gardens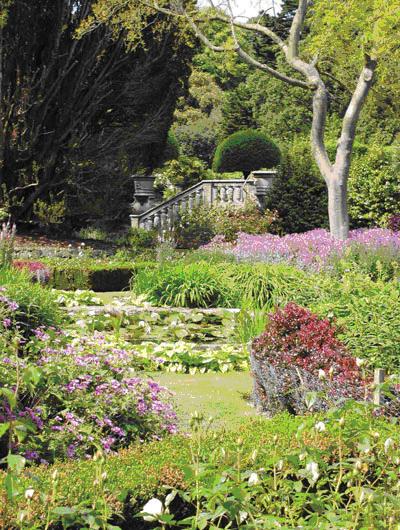 By Anne de Verteuil
Perfect peace and a clear blue sky. Sitting warmed by the sun, I'm enveloped by the sights and scents of an old-fashioned cottage garden flowering at full tilt. All around me fragrant roses clamber up walls, over pergolas, and into trees; flower-lined paths await exploration.
No, this is not a passage from a 19th-century romance, but the blissfully real garden at Rathmichael Lodge just outside Dublin, where I found myself on a mid-June afternoon, drinking tea with the hospitable owner-gardeners and falling utterly under the spell of a country where time travel of this kind happens all the time.
This was the second day into an eight-day tour of Irish gardens run by The Irish Connection. We'd explore gardens in the southern counties of Wicklow, Dublin, Meath, Louth and Kildare. Then, crossing the now non-existent border, we would carry on up to Belfast and County Down in the North. In addition to well-known large estates, we'd visit select private gardens like this one at Rathmichael Lodge, where the owner or head gardener would personally show us around.
Gardens being my off-duty passion, as well as my day job, I'd done my research and knew I'd be bowled over by the parks and grounds we were to see. But the truth is, nothing could have prepared me for the beauty of the countryside and the overwhelming hospitality, charm and good humor of our hosts, guides and fellow-gardeners in both the north and south. We had wonderful food, sunshine and showers in equal measure - and, yes, the gardens were absolutely magical
Ireland's gardens are as much a part of its rich cultural heritage as its literature, music, architecture, and its ancient and mysterious sites. The big estate gardens with their lawns, borders and walled kitchen gardens are frequently associated with elegant 18th- or 19th-century houses that may be visited as well. The natural beauty of the surrounding landscapes usually supply a backdrop of mountains or a view over a lake. Once you add to the wonderful lushness the intense greens that a high rainfall produces, you understand how the Emerald Isle got its name.
But what really makes these Irish gardens something of a holy grail for garden-lovers is the enormous diversity of plants they contain. The climate of the east-coast side is sufficiently mild for a wide range of plants from both the northern and the southern hemispheres to grow and flourish. Rare and tender rhododendrons, plus acacias, eucalyptus, cordylines and palms, all grow like natives amongst the more familiar trees and shrubs.
On day one, we headed out of busy, buzzing Dublin to the gently rolling landscape of the Wicklow hills and into another time frame. Our first stop was Corke Lodge, a private garden with a woodland walk that wound through lofty subtropical plants. Lush tree ferns and grasses concealed tumbled stone columns and antique fragments, a path framed the unexpected view of a ruined gothic folly, and on the lawn near the house "the biggest cork tree in Ireland" - planted in 1880 and too venerable to stand upright any more, reclined majestically
Garden-as-theater describes nearby Powerscourt, replete with parkland, terraces, statuary and walks. The magnificent formal landscape gardens were laid out in the 18th and 19th centuries. From the south facade of the imposing house, a series of wide stone steps and grass terraces descend to the lake. Here, a fountain sends a perpendicular jet of water high into the air against the distinctive outline of the sugarloaf mountain beyond.
The next day, a glorious sunny Sunday, we drove to Mount Usher, a ravishing garden of meandering paths and glades. Wide foot-bridges cross and re-cross the River Vartry as it flows down from the Devil's Glen on its journey to the Irish Sea. "Irish time" stole over us all as we wandered, entranced, through a succession of woodland walks and clearings, each one planted with rare and tender plants, and always following the gentle swing of the river.
The sensation of having entered a lost world was further confirmed by our visit to Hunter's Hotel, just up the road from Mount Usher. One of Ireland's oldest coaching inns, Hunter's exudes a casual intimacy. In its pretty, rambling and slightly careless garden of lawn and cottage-garden flowers you feel you could happily sit down to rest and just take root there.
In the afternoon, with the sun still shining, we arrived at Rathmichael Lodge where generously planted beds of old cottage-garden favorites - peonies, alliums, delphiniums, sisyrinchium and pinks - jostled, flowed and spilled out colorfully onto every surface. A magnificent rambling rose, "Adelaide d'Orleans," clambered into an old apple tree, smothering its branches in a sea of creamy blossom. The simple secret of its vigour was, we were told, "no feeding, no pruning."
The next day we drove from Dublin out to Ranelagh to visit plantswoman Helen Dillon's town garden. The Dillon Garden is justly celebrated for its design, described as "a necklace of secret rooms," and its remarkable collection of plants, which in scope and variety approaches that of a small botanical garden. Beneath a brilliant noonday sun and Mediterranean-blue sky, platoons of superbly healthy, well-behaved plants, amongst them richly colored roses, rare clematis, soaring delphiniums, cannas and crocosmias, were giving a dazzling performance with grace and enthusiastic vigor.
Ferns and an assortment of unusual woodland perennials are grown in special areas of shade, while raised scree beds contain jewel-like alpines - and here lies the clue to the success of this garden. "Right plant, right place" is the principle that underlies its ordering, with every group of plants given the specific conditions it requires to thrive. Helen's skills as a plantswoman blossom right here in front of one's eyes.
The Dillon Garden changes frequently too. A clean-cut rectangle of water edged with slate paving has recently replaced the original lawn, and a new area for bold-leaved plants is taking shape elsewhere. Color combinations change annually.
This past summer clashing pinks, reds and oranges in the hot border provided a sizzling counterpoint to the cool blues and purples across the water.
And all is immaculate. Peering with envy into the area set aside for compost, one of our group remarked, "It's better than my whole garden." Over a delicious and entertaining lunch with the Dillons, we tried to imbibe as much horticultural wisdom as possible.
At Malahide Castle and the exceptional Talbot Botanic Gardens, trees and shrubs from the southern hemisphere were imaginatively displayed within the shelter of the wonderful four-acre walled garden. We could have spent hours here but time was short, and we were due at Beaulieu House in Drogheda, County Louth by midday.
Built in the 1660s by the Tichbournes, Beaulieu House has stayed in the hands of that same family ever since. Its interiors, even its contents, have remained virtually unchanged for nearly 350 years.
We were given a personal tour of this extraordinary place with its massive hall, a full two-stories high, and its lovely walled garden, believed to have been laid out by the Dutch artist Van der Hagen in the 17th century. Now in her 90s, the present owner, Mrs. Sidney Waddington, remains spry and astute. Most inspirational to all of us visitors: she's still gardening.